Knowledge is at the heart of Keanaissance. Understanding its generation, transmission, and impact is the purpose of our event. At the Keanaissance '22 (June 2022), we gathered a group of subject matter experts, combining knowledge of a diverse group of industries: from transport, fashion, banking, investment, recruitment, and real estate. They were asked to present their views of the future. Their answers were instructive, informed, and individual but they all agreed on one clear theme.
The global economy is about to enter a new phase of development where the potential of digital co-operation and its application to critical industries will produce a paradigm shift sufficient to be called a "revolution".
This theme was espoused by a cross-generational group. This multiplicity of ages produced a number of remarks which deserve repeating:
"There was a movie in the 80s called Bladerunner, or something."
A (young) digital assets fund manager conceding that Ridley Scott may have been onto something.
"Why aren't you married? It's a supply-chain problem."
An (older) philanthropic entrepreneur applying macro-economics to dating.
"I wanted to work on a new idea. At the time, I was trying to work out how to barbeque a pumpkin."
A (venerable) technologist now turned to innovation in banking, recalling therapy during the Pandemic.
As Jack Russo, Silicon Valley's Super Lawyer, commented, the future has been, and will always be, determined by the drive to seek "smaller, faster, cheaper" ways of achieving our goals. This was the leitmotif for this year's Keanaissance. A masterclass in the reality of "nudge" economics, where small changes, driven by societal as much as economic good, can and do produce large, positive results.
In this vein, we learnt from David Batstone, the renowned Silicon Valley venture capitalist and principal of Blackstone Technology, that the application of 3D printing can and will revolutionize the production of batteries for Electric Vehicles (EVs). More than that, the use of this proven technology is based on and will be supported by the recovery of stranded assets. Minerals already in use or coming to end of life in a range of battery applications can be recycled and to put to further use. As the world demands more resources for batteries, the answer may be provided by the resources already in the system. David highlighted that this is the ideal answer to the current preference for lithium/ion units when the future is surely hydrogen fuel cells.
Douglas Olofsson, the co-founder of Tutum Capital, spoke of the evolution of digital assets through the breaking down of silos. Specifically, Douglas commented that tokenization could provide for break-through models, combining the metaverse available in on-line gaming, for example, with new constructs which democratize investor access to a range of industries. He spoke of a multi-metaverse which could include developments such as direct access to hydrocarbon economics, mining sea water for magnesium, tokenized individual carbon capture, and educational animation. Douglas demystified blockchain in this presentation, placing it in the context of the network through and on which these developments, and others, would run.     
Location, location, location
With this capacity to expand not only the access to previously siloed industries but participation in their economics, the discussion turned to location. Reflecting on the impact of the Pandemic and the secular trend to non-traditional working practices, Vicky Athanassoglou, international lawyer, and business arbitrator, presented the Greek "Golden Visa" scheme. This provides a five-year residency permit to investors taking advantage of Greece's economic opportunities. Critically, and aligned to the theme of the Summit, the investment opportunities can be fractionalized thus presenting another example of investment innovation in real estate ownership whose roots are in the digital space.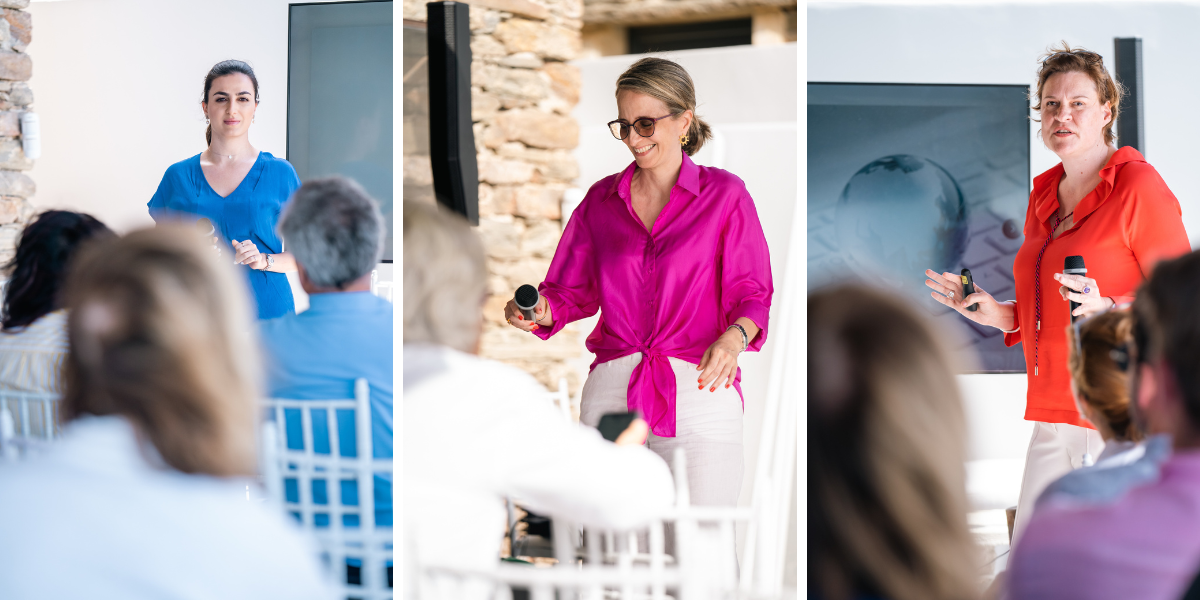 This theme was echoed by Darya Shaterloo, founder of Hectocorn. Darya has launched this business to provide UHNWIs with the structures through which to finance asset purchases; principally real estate but with obvious uses in other high value asset classes. Despite their wealth, Darya's client base, which comprises billionaires, royalty, and corporate titans, all require a home or homes. This necessity value often outweighs the asset value at the heart of the transaction. For that reason, Darya has founded her business on four core, non-financial values: kindness, honesty, openness, and trust.   
These values are espoused and required, increasingly, from the next generation. Leanne Kovacic, co-founder of Workplace Strategy Group, recounted her experience in recruiting and managing employees. She reflected that the younger generation, now establishing themselves in the workforce, take their values and those of their employers very seriously. This generation is seeking, if not demanding, greater flexibility in work and a new sense of purpose. Recognising these trends, Leanne stated that employers are seeing more success when engaging actively with employees to ensure that wellbeing is at the heart of work life. Accepting this change and adopting strategies to capture this zeitgeist is the key to corporate success in the coming decades, according to Leanne. Communication is vital. Leanne introduced the audience to the acronym TL.DR (Too Long. Didn't Read) as a response to traditional routes. She highlighted that, generationally, we all have much to learn from other cohorts. As much young to old, as the more time honoured "older, and wiser".
Technologies, knowledge and platforms
Chris Richardson, senior Partner at IDAP Global, channelled his younger self to explain his career trajectory and current project. An avowed "technologist", Chris owned to being given his first computer at 9 years old, a Televideo TS802. This led, directly, to roles at the Internet Society and NATO in addition to time in Silicon Valley, helping companies add a zero to their value. Latterly, Chris has helped to create one of the world's first neo investment banks, armed with a maxim akin to Jack Russo's: a means of conducting investment business which is both quicker and cheaper than the commanding heights of the Investment Banking industry. IDAP has originated US$30 million of deals already and has US$500 million more in the pipeline. As Chris put it we are "working with real businesses, doing real things with real stuff".
The excitement and satisfaction of "new real" was taken up by Kimberley Cole, who spent 28.5 years in senior roles at Thomson Reuters and is now Chief Commercial Officer of Lynk. Kimberley outlined the purpose behind Lynk which utilizes leading-edge technology, including artificial intelligence applications, to provide a people-centric knowledge sharing platform. Consistent with the theme of our discussions, Lynk provides a platform for corporates, investment firms, and – latterly – associations. The platform curates content and comment relevant to the audience, which content and comment is provided by fully audited experts. Users can gain access to 840,000 experts via Lynk Answers in addition to building their own knowledge hubs via the Lynk Circle solution. Private Equity firms, for example, are connecting their portfolio companies via Lynk, not just to the PE but also to each other. Knowledge sharing and management is key to the development of Lynk. This has driven use by engagement from financials, IT, and healthcare, for example, as the top three users. However, Kimberley was keen to stress that Lynk is just starting to explore the potential for its knowledge sharing across multiple industries and disciplines.
The scope to share knowledge for both common purpose and good is at the heart of Graham Hellier's World Continuing Education Alliance (WCEA); a global continuing education platform that shares healthcare education with healthcare professionals around the world. Graham has been an entrepreneur for all of his career, starting at 19 with opening capital of £2,000. He developed this to a much larger sum which he has now used to invest in a number of companies. However, on a holiday in Barcelona in 2011, he interrupted his wife's shopping by announcing he was "going back to work". Founding WCEA, it supplies Continual Professional Development (CPD) through a network which is not a content provider but a facilitator. The platform is now available In 28 countries with over 500,000 users. It has delivered 4.5 million courses containing over 6 million hours of content. As a knowledge hub for medical training, the platform is in demand in areas where knowledge remains at a premium. Having established itself in Africa, WCEA is now looking at MENA and SEA, with the aim of 1.6 million users by the end of 2024.   
Dreams do come true
There is insufficient time and space to do credit to the presentations of Jean Pierre Heim, founder of the eponymous architectural practice, Lauren Demarest, CEO of Sweat Booker and Sweat Vacay, and Thomas Zeumer, CEO, and co-founder of ZEX Zuper Experience. These contributors provided unparalleled insights to their worlds which are determined by creativity, vision, and drive. However, it is fitting that their own words close our reflections of Keanaissance '22:
"Let out your dream" – Jean Pierre Heim.
"We have been given the gift of time. We want to help you use it" – Lauren Demarest.
"When you have a dream. Chase it. The dream will not chase you" – Thomas Zeumer.
We will reflect on these entrepreneurs' views and philosophies in later articles. For now, all the contributors to Keanaissance '22 provided our audience with insight, innovation, and inspiration. We thank them for this and wish them success in their ventures.
We look forward to our next event on Mykonos, 1-5 October 2022, at which we will look to further advance the current debates around investment, growth, and development.