Sweat Vacay is about bringing the world of wellness
to the world's most beautiful vacation destinations.
Sweat Vacay is a turnkey solution with elite trainers and practitioners from around the globe, high-end gear, audio equipment, and more. It's all covered.
We have partnered with Sweat Vacay for Keanaissance Edition 2 to ensure you get your sweat on even while you're on conference. We have prepared a day full of activities to make sure you discover the beauty of Kea while networking with other delegates. Furthermore, Sweat Vacay will be present during your whole stay at Keanaissance, if you'd like to hire a personal trainer or participate in additional activities they have planned.
Day 2 (June 3rd) - Pre-Summit
The Keanaissance Sweat Vacay Pre-Summit Retreat is included in your Keanaissance Edition 2 delegate fee. Please contact [email protected] to apply and reserve your spot. The starting point of this adventure will be Villa Carpe Diem.
7 AM Mobility + Stretch Class. (1 hour)
– Followed by breakfast at the villa
ACTIVE NETWORKING EVENT: Hike to Karthea (1 hour 10 minutes) to the Ancient Theater and the Temple of Apolon
– Mandala Yoga + Meditation
– Picnic of local fare at the adjoining beach
– Shuttle from beach to the port via Zodiac inflatable boat
Sunset Yoga 7-8 PM (1 hour)
– Followed by dinner at the villa
Sweat Vacay Keanaissance Wellness Retreat
For an additional cost, you can take part in numerous activities organized by Sweat Vacay during your stay at Keanaissance. We have highlighted part of the offer that would nicely complement your Keanaissance experience.
Please fill in the short contact form to apply for any additional activities you would like to have organized and we'll get back to you with an offer.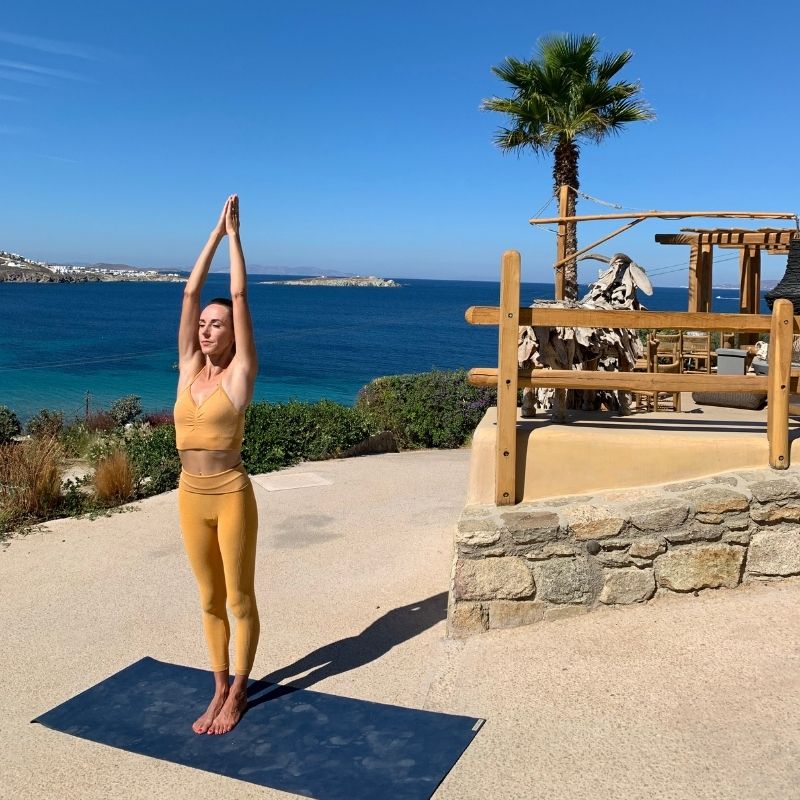 List of potential activities
7 AM Yoga
Brazilian Flow: Traditional Breath + Movements 
Hike path 2 from the port to path 1 to the Capital of Ioulida to the famous lion statue. (1 hour) – available at DAY 1 (June 2nd)
Meditation + yoga overlooking the valley (30 minutes)
– Option to continue to the Otzia Beach for a swim +
lunch at the local taverna (additional 1hour 45 minutes hike)
Sunset yoga at the villa (1 hour)
Mini Stretch Breaks with chair (2 minutes) between sessions
Lauren Demarest, Co-Founder and CEO
Founder of Sweat Vacay and Sweat Booker, Lauren was Stages Indoor Cycling trained by Master Trainer Javier Santin. And was Booty Bar trained by Nicole L'vov. She practices yoga, Pilates, and ballet and has a passion for making wellness available to people throughout the Mediterranean. She loves the natural beauty of Greece, and taking it all in through the lens of wellness and fitness with her Sweat Vacay lineup.
Beverly Barnes, Co-Founder and COO
Beverly Barnes is a veteran of Fortune 500 retail companies such as Coach, Ralph Lauren, and Gap, Inc., where she held various analytical and operational roles. She led Inventory Planning, Sales Forecasting, and Distribution in apparel and accessories departments before pivoting to IT Product Management as part of Gap, Inc.'s Digital Transformation team. Beverly holds a Bachelors in Social Studies with honours from Harvard University and an MBA in International Business from INSEAD in France, which inspired her to join Lauren on her mission of modernizing the European fitness space. She loves new workout classes, podcasts that make her think, and her goofy Lab mix, Loki.
Panos Pantios, Sweat Vacay Coordinator
Panos is a Professional wellness coach and specialist in Sport Performance and Rehabilitation Programs. He was a professional ice hockey player in Germany and graduated from Sport and Medicine university in Munich and Freiburg. Panos offers educational services that are strategically designed to give women and men the equipment that they need to archive their goals by helping them to Create healthy habits, constantly change their body, and live a fat loss lifestyle. He collaborates with the most famous gyms in Athens and hotels in Mýkonos, Santorini and Ios. Panos also works as a Strength & Condition Trainer with many professional athletes.